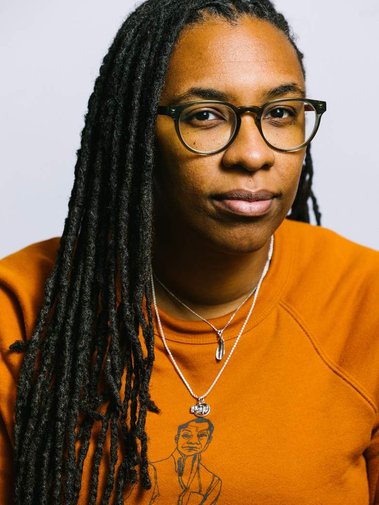 Images do not deserve descriptions, only interpretations.
"Suddenly this camera, this thing, allowed me to move around the world in a certain kind of way, with a certain kind of purpose." Carrie Mae Weems
Lynsey Weatherspoon's first photography teacher was her late mother, Rhonda. Like her mentor-in-her-head Carrie Mae Weems, that first camera - a gift - delivered purpose. Her career includes editorial and commercial work that has been inspired and powered by her first teacher's love and lessons.
The #blackqueergirl is an award winning photographer, portraitist and director based in Atlanta and Birmingham. Using both photography and filmmaking as tools to tell stories, Weatherspoon's work has been featured in print and online in such publications as The New York Times, USA Today, NPR, Wall Street Journal, The Washington Post, Time, ESPN and ESPN-owned The Undefeated.
As a member of a modern vanguard of photographers, she is often called on to capture heritage and history in real time. The Equal Justice Institute's Bryan Stevenson. The National Memorial for Peace and Justice. The Legacy Museum. Ronnie the shoe repairman in downtown Birmingham. The people of the Gullah-Geechee Corridor. An entire family infected with and affected by a pandemic. Demonstrators with raised fists and sad, vulnerable eyes. The sons and daughters of history. The mothers of children who died making history. The majesty of Mardi Gras. The loving hands of family caregivers.
Lynsey Weatherspoon's work has been exhibited at The African American Museum in Philadelphia and Photoville NYC. She is an awardee, The Lit List, 2018. Her affiliations include Diversify Photo, Authority Collective, and Women Photograph, as well as National Press Photographers Association (NPPA), Professional Photographers Association (PPA), American Society of Media Photographers (ASMP), and American Photographic Artists (APA). She was also named a Canon Explorer of Light in 2020, and became a member of IATSE Local 600 in 2022.
Lynsey is available for assignments and projects nationally and internationally through both stills and video. She also develops specific curriculum for lectures to high schools, colleges and conferences and is available for virtual and in-person speaking engagements.
2021 - American Photography 37
2021 - National Geographic Society Grant
2020 - Canon Explorer of Light
2019 - New York Times Portfolio Review
2018 - The Lit List
MGM / Warner Brothers / CNN / The New York Times / The New York Times Magazine / National Geographic / WebMD / TIME / The Atlantic / Fast Company / Bloomberg Businessweek / Inc. / Der Spiegel / The Wall Street Journal / The Guardian / Politico Magazine / Audubon Society / Runner's World / GoDaddy / Vanity Fair / Square / NPR / PEOPLE / AARP / VICE / The New Yorker / Bon Appetit / The Washington Post